Tree Action Arbre Working Group
Tree Action Arbre Working Group
Tree Action Arbre
Growing. Protecting. Greening.
Our vision of Cornwall and the surrounding areas is that of a vibrant and connected natural environment sustained for future generations. To achieve this vision, we will use advocacy, education and greening initiatives.
We welcome new members and seek to engage the community and pursue partnership opportunities with other like-minded groups.
Currently the group is researching and providing resources to help people make informed decisions about the conservation and expansion of tree coverage.  We also provide information and resources to individuals wishing to plant trees, conserve natural areas or seek advice about their existing trees.
We are supporting the City of Cornwall through their current process in developing a robust and effective "A Tree Protection by law".
Find us on FACEBOOK. 
Tiny Forest @ Library acquires an Interpretive Sign
Thanks to the support of the Cornwall Public Library and Transition Cornwall +, the Tiny Forest @ Library now has an interpretive sign. This sign, created by Cornwall City Press, replaces the brochures which were available to the public on a walk by basis. Appreciation goes to John Towndrow who did the installation. It is August 2023, four years after the initiation of the project and the trees are all thriving well,  beautifying the downtown of  Cornwall.
The Many benefits of the Minuscule but Mighty Miyawaki forests
(from Canadian Geographic September October 2022)
The many benefits of the minuscule but mighty Miyawaki forests. Pioneered by a Japanese botanist, compact Miyawaki forests are beginning to replace backyard lawns on tiny plots around Canada.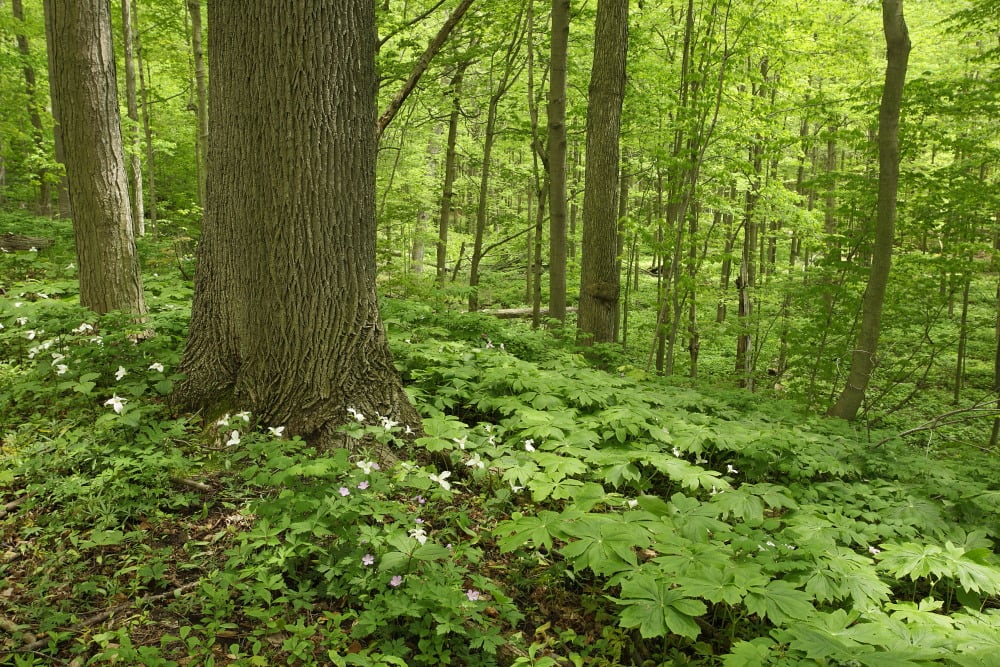 A tree is not just a tree. It is part of a collaboration of living creatures both intricate and mysterious — microbes, fungi, shrubs, ground- covers. In turn, this assemblage attracts insects, birds and mammals in a merry mashup of collegiality.
This refashioned understanding of the tree is giving rise to a tiny, forested revolution in cities across the world, including several in Canada. Rather than planting lawns around a solitary tree — once the ideal — municipalities, homeowners, schools, businesses and others are planting Miyawaki forests.
Named after the Japanese botanist Akira Miyawaki who invented them about 40 years ago, the densely planted forests are perhaps the size of a tennis court, often even smaller. But these minuscule forests are mighty, containing hundreds of plants, each striving to get its share of sun and rain. Done the right way, the forests achieve mature heights in about 20 years, rather than 100 or more, because they grow up rather than out.
"It's one of those few things that when you first create it, it just gets better over time," says landscape architect Heather Schibli. Her firm manages CanPlant, an organization that is beginning to track Miyawaki forests in Canada and the native species they contain.
So far, there are nearly a dozen in Ontario and Quebec, with plans in the works for many more across the country. One of them is in Schibli's backyard in Guelph, Ont. Its 230 woody plants are packed into eight metres by nine, leaving enough room for a back deck, trampoline and shed.
Schibli started by covering her lawn with a layer of cardboard, then adding compost and mulch. Once the forest was planted, she needed to bolster organisms in the soil, a key element of forest life. She took a spoonful of soil from a local wild forest, using it to make a "tea" with which to water the new forest. This tea fosters mycorrhizae, the fungal threads that bind plants together, communicating and sharing food.
The trees must be native and local, evolved to live together. They are chosen to form four structural layers — canopy, sub-canopy, arborescent (small understorey) trees, and shrubs.
The benefits multiply. Trees that grow tall quickly absorb more carbon dioxide than trees that grow slowly, building carbon into root and branch. The forests help manage storm water: Schibli's neighbours diverted run-off water to her backyard to nurture the trees. Air quality around the forest is better because of the oxygen the plants emit, and all that greenery absorbs noise and soothes the spirit. More species arrive. It's the recipe for an ecosystem.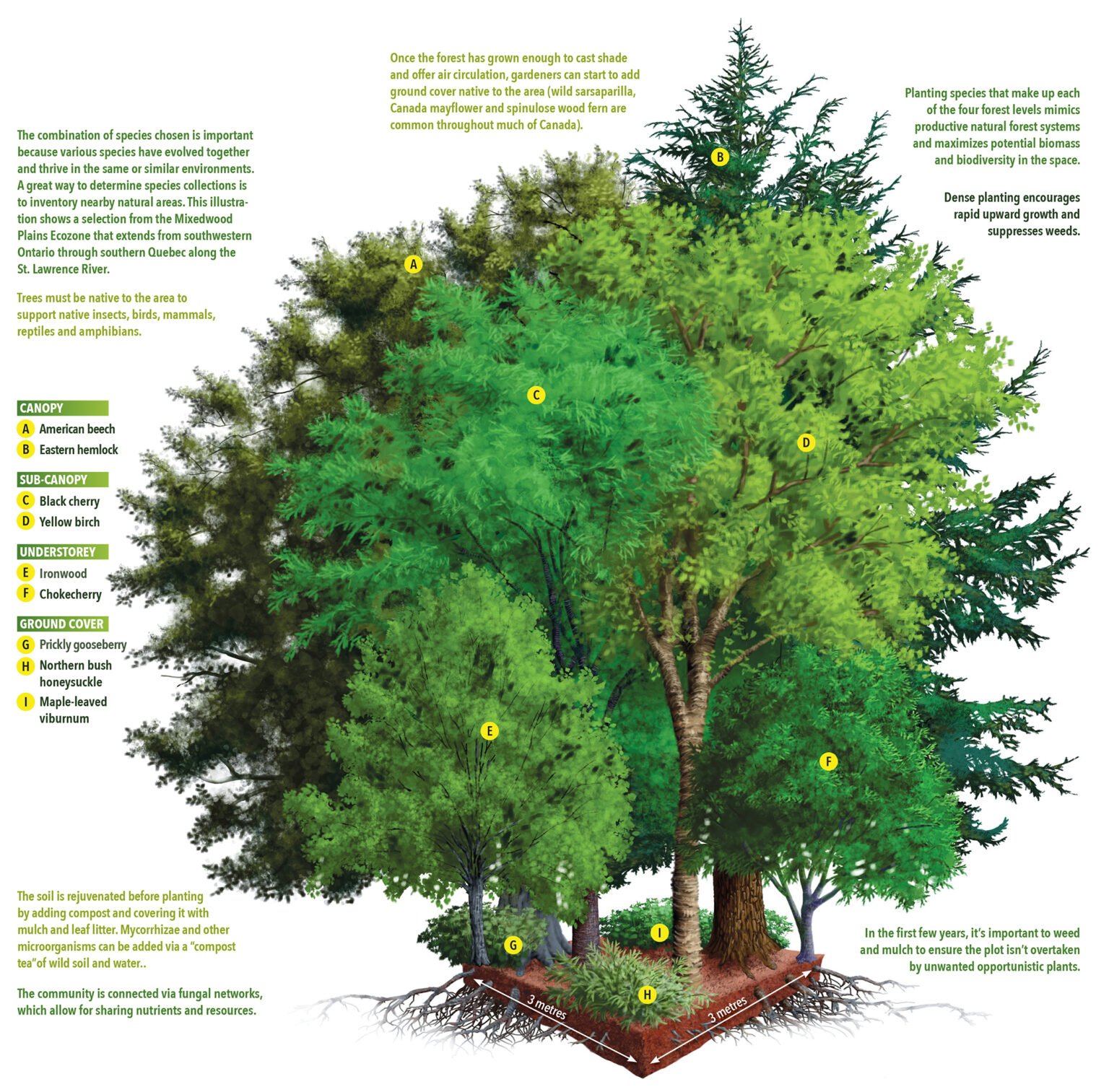 Looking for Nature Minded People
Tree Action Arbre is reaching out to the community to 'grow the group'. All are welcome to attend an open meeting on Tuesday, November 15 at 6:30 at the Cornwall Public Library. See poster below.
Feedback on the Launch from the chair of TC+
It was a really wonderful experience to see the Tiny Forest successfully launched on Friday.
After all your hard work, seeing the City representatives and the local press show up in force was very gratifying.
I think it shows that our efforts are really having an impact so congratulations on a great event and a project that will have such wide-ranging benefits for years to come. John Towndrow
To listen to an interview done by Susan Towndrow on CBC radio click below:
https://www.cbc.ca/listen/live-radio/1-112-ontario-morning-from-cbc-radio
Tiny Forest at Cornwall Public Library has its official launch event
There's a forest oasis in the heart of Cornwall.The official launch of the Tiny Forest at the Cornwall Public Library was over the noon hour on Friday, the Transition Cornwall+ Tree Action Arbre working group calling it a unique project, and welcoming guests to sit on the logs and immerse themselves in the new plantings of trees and shrubs that will grow and mature into a space that offers shade and beauty – an oasis in the heart of the city."It's through your vision that we're understanding what trees bring to our environment, to our city," said Cornwall Mayor Glen Grant, one of the speakers at the launch. "What I really like seeing is the great partnerships that exist in our city, and this is a great example of that."The project is described as a miniature, dense forest of native trees and bushes, planted by Tree Action Arbre, a branch of Transition Cornwall+, in partnership with the library and city, along with Cornwall Collegiate and Vocational School, whose staff members and students provided practical support.The aim is to create a richly diverse ecosystem for the benefit of people and the environment, with Tree Action Arbre hoping the Tiny Forest @ Library will become a welcome new friend and member of our community that people can enjoy and benefit from as it grows into its maturity.Todd Hambleton/Standard Freeholder
Cornwall downtown Tiny Forest launched
CORNWALL – People in downtown Cornwall don't need to dream anymore about a forest walk during their workday.
The Tree Action Working Group of Transition Cornwall + officially launched the Tiny Forest at noon today (Oct. 1) on the east side of the Cornwall Public Library along Sydney Street.
The urban forest is a partnership between the group, the City of Cornwall, the Cornwall Public Library and Cornwall Collegiate and Vocational School (CCVS).
To read more: https://www.cornwallnewswatch.com/2021/10/01/cornwall-downtown-tiny-forest-launched/
Early Summer Finds Volunteers Spreading Much Needed Wood Chips


Tiny Forest Flourishes Spring 2021
There is an abundance of native trees and shrubs that have happily established themselves for the benefit of all who pass by. Please help your self to rhubarb it is there to be picked, taken home and enjoyed.
Cornwall's downtown urban forest planted  May 2020 (Tiny Forest @ Library)
Members of the Transition Cornwall + Tree Action Working Group pose for a photo during their spring planting outside the Cornwall Public Library on Monday, May 11, 2020. With them is Cornwall Parks Supervisor Scott Porter (center in hi-vis jacket). (Newswatch Group/Bill Kingston)
For complete coverage
Tiny Forest Coming Soon
Tree Action Arbre member Susan is setting up the pegs indicating where the trees are to be planted in May 2020. The City of Cornwall has sponsored the purchase of 37 trees of 10 native species. Planting will take place dependent on availability of our volunteer crew, respecting Covid 19 physical distancing restrictions.
The fall preparations for the Tiny Forest@Library are complete. Daniel, with a small team of TAA members, and a back hoe, spread compost and wood chips. These were thankfully provided by the City of Cornwall.
Daniel has installed the irrigation system under the materials, all set for tree planting in the spring.
Daniel takes a moment to  show off the work that was completed on day one of the fall work
Wednesday, September 25, National Tree Day
To celebrate National Tree Day, the first stage of the Tiny Forest@ Library planting took place. Fourteen grade 7-12 students from CCVS along with their teacher Ms St. Germain were on hand. Tree Action Arbre ( TAA)  members were also present to celebrate National Tree Day by planting trees.
The students used shovels, compost, wood chips and lots of muscle to prepare the soil. In all six trees found new homes: four Sumacs and two Columnar Crab apple trees. The grade seven boys were tasked with litter clean up, and they met the challenge with gusto.
See Cornwall News Watch article
New Initiative: Tiny Forest@Library
In the fall of 2019 we will be launching a new and exciting project: Tiny Forest @ the Library.  Along with our partners, Cornwall Public Library, City of Cornwall, and Cornwall Collegiate and  Vocational School (CCVS),  we will be planting a tiny forest of edible and non-edible trees, bushes and ground cover along the east side of the Cornwall Public Library on Sydney Street. The aim is to create a small urban forest to replace the existing bare lawn area. This will provide an educational opportunity and hands-on experience for students and the community at large. It will  be an example of the possibilities and value of a forest, even a very small one, for Cornwall citizens, animals, birds and insect life, as well as providing shade as the trees grow. It will be an opportunity to demonstrate that small projects like this are an important step in addressing climate change.  Volunteers and students will be tending the forest and monitoring changes and effects.
Monday, November 25, 2019, 7:00
Cornwall City Council will be receiving policy recommendations for the "Tree Canopy and Natural Vegetation Enhancement and Preservation", at their council meeting. The greening advocacy group Tree Action Arbre  will be part of  a presentation in spport of this along with Mr. Michael Rosen, president of Tree Canada. Please come and show you care. The City needs to know.

Neil Macmillan and Dan Marion at Backyard Food Day, Aug. 18, 2019  – helping visitors adopt bur oak seedlings to take home and care for.
Other activities and events
Each year we also offer different free public programmes, such as family films and crafts at the Cornwall Public Library, community events such as celebrating Winter and Summer Solstices, forest walks and initiatives for planting trees.
Photo Gallery
Circle dance at Winter Solstice Event
Drumming at Summer Solstice.

'Paddle Me to the Sea' family movie event at Cornwall Public Library, Spring 2019
Current information on Trees:
Invasive Species Alert
Scott Porter , Chief Arborist City of Cornwall, would like to alert the population of potential invasive species that damage both urban and rural trees. The species to be on the look out for are: Spotted Lanternfly, Oak wilt & Hemlock Woolly adelgid. For complete information visit Invasive Species Centre.
How to Winterize you tree (Velta Tomsons at Ecology Ottawa)
With winter fast upon us and snow already on the ground, you might be wondering – is there anything I should do to prepare my tree for the harsh Canadian winter? There is! This past summer, we gave away 12,000 tree saplings and we want to ensure they all have the best shot at surviving the cold months ahead.
Essentially, you need to tuck your tree in for winter. First, place small stakes in the ground around your tree, making sure they're at least as tall as your sapling. Next, form a barrier by wrapping chicken wire around the stakes. Then fill this in with leaves or paper strips. You can also tightly but gently wrap the tree in an insulating material – anything from thin cardboard strips, to hemp tree covering material, to any other soft, natural substance.
That's it! For more detailed instructions, and pictures, please visit our website.
If you have any questions, please reach out. You can email me at this address or Ginette Hupé at [email protected].
Velta, Ginette and the Living City team at Ecology Ottawa
We also provide links to information about tree initiatives both locally and worldwide.
Locally:  The organization Glengarry Neighbours is actively working to preserve and expand the tree cover in their area.  For more information contact Glengarry Neighbours/Les voisins de Glengarry [email protected]
Internationally: The United Nations Global Forest Goals and Targets of the UN Strategic Plans for Forests 2030 https://www.un.org/esa/forests/wp-content/uploads/2019/04/Global-Forest-Goals-booklet-Apr-2019.pdf
Please do drop us a line at our contact us page.