Choosing the Best Container Gardening Vegetables
Choosing the Best Container Gardening Vegetables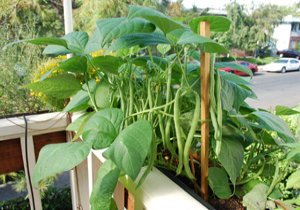 Selecting the right container gardening vegetables is one key to a successful balcony farm. If you choose the right vegetables for container gardening, you'll have far fewer problems, and bigger and better yields.
A vegetable container garden has limited space, so you'll want to focus first on the vegetables you like the most. Make a list.
You'll also want to grow vegetables that give you a continuous harvest, like green, leafy vegetables that allow you to pick a few leaves as needed, or vegetables that kick out a few ripe fruit a week, like tomatoes, cucumbers, summer squash, eggplants, and peppers.
Fast-growing vegetables like radishes, beets, and turnips are also good choices for container gardens.
Read Choosing the Best Container Gardening Vegetables at Grow-it-Organically.com