Read how your candidates plan to address climate change, active transportation, greening, waste management and food security issues.
Feb
11
Sat
Free Film Showing: "Inhabit: A Permaculture Perspective"

@ Cornwall Public Library
Feb 11 @ 1:30 pm – 3:30 pm
Humanity is more than ever threatened by its own actions; we hear a lot about the need to minimize footprints and to reduce our impact. But what if our footprints were beneficial? What if we could meet human needs while increasing the health and well-being of our planet? This is the premise behind permaculture: a design process based on the replication of patterns found in nature. INHABIT explores the many environmental issues facing us today and examines solutions that are being applied using the ecological design lens of permaculture.
---
Welcome!
Transition Cornwall+ is a community group created to help build resilience and sustainability in Cornwall and the surrounding rural area (the + in our name,) in preparation for the combined challenges of peak oil, climate change, and global economic instability. For our communities to withstand the challenges of uncertain times, we need to inspire and support positive local responses at every level – individuals and groups, business and government.
So, what is a transition town?
A Transition Town (or village or city, etc.) is a community-led response to the combined challenges – and opportunities – presented by climate change, fossil fuel depletion, and economic instability. It starts with a small initial group that comes together with a shared concern, then builds into a broad coalition of people and groups within a community. Together, they unleash the genius of the local community to design ways to reduce energy dependence, looking at all the key systems – food, energy, economics, education, transportation, textiles, health, etc. And they do it in ways that are practical, playful, cooperative, engaging, and mindful of the wider questions of biodiversity, social justice, and economic equity.
Tiny Forest @ Library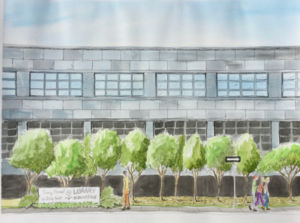 The Tiny Forest is located on the Corner of Second St and Sydney Street, on the east side of the Cornwall Public Library.
Visit the tiny Forest @ Library page here.
The Cornwall Seeker


Transition Cornwall + writes a monthly article for the Cornwall Seeker. Check out the latest and previous articles here!